Restaurant De Echoput
Enjoy delicious game and natural cuisine all year round
Het Loo Royal Estate, Apeldoorn
Restaurant de Echoput
Restaurant de Echoput is well-known for its wild game and natural cuisine. Trees, bushes, herbs, plants, berries, vegetables, game, mushrooms; all the fruits of the forest are used to create the most delicious dishes and placed on the menu.
Every day, the boys and girls of the kitchen team search the forest for the most beautiful seasonal products, ensuring that the guests can enjoy the very best that nature has to offer!
Een sfeervolle avond in een relaxt restaurant, 5-gangen professioneel geserveerd. Aandacht voor de kleinste details en aandacht voor de gasten, optima forma.
GEMIDDELDE SCORE VAN
9.3
(Meer dan reviews op Tripadvisor)
Culinary packages
Hotel restaurant de Echoput focusses on a complete and supreme experience of nature. With its culinary packages, the team invites you to enjoy the beautiful surroundings.
Whether on foot or by bike, you are welcome to relax with a drink in the bar and brasserie, indulge in a delicious dinner in our restaurant, enjoy a relaxing overnight stay and an excellent breakfast in the morning.
All moments combined create the complete and supreme experience of nature.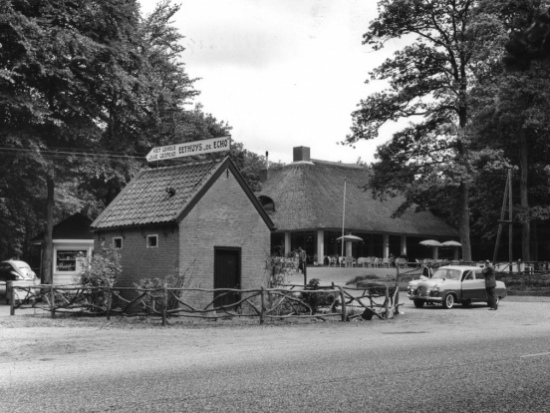 Kitchen history
In the 1950's, de Echoput was a humble teahouse where you could enjoy something simple to eat for a few guilders. However, (grandfather) Jaap Klosse was well ahead of his time by keeping a close eye on the developments in French cuisine. Except in preparing wild game.
Over-extended periods of ripening the meat and thick, rich and noble tasting sauces were reason enough for him to develop a more refined cuisine. With these wild game specialties, de Echoput became one of the early Michelin star restaurants in the Netherlands. The kitchen later specialised even further with wine and food pairing.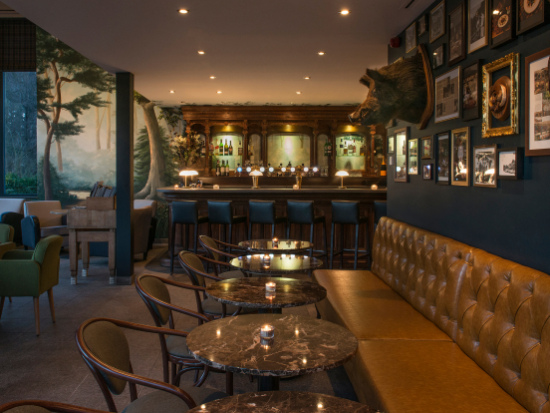 Bar & brasserie
The bar and brasserie can also be considered almost at one with nature, with its high windows looking out to the old towering trees. You are welcome to take a seat under the forest scene by local artist Peter van Oostrum or at the atmospheric bar.
The bar and brasserie is the place for a morning coffee, a light lunch, to relax with a drink after a challenging hike. In the evening you can also enjoy vintage dishes and Echoput classics, have an aperitif prior to dinner or digestive to top off the evening.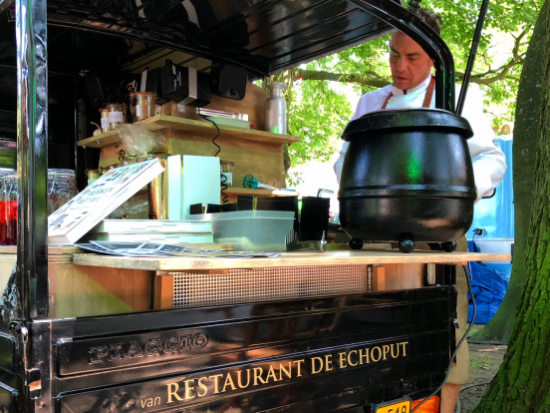 Echoput GOES WILD
Literally and figuratively, the Echoput GOES WILD subsidiary brand involves everything that de Echoput organises apart from the restaurant, bar and brasserie.
Echoput GOES WILD welcomes the opportunity of organising an outdoor dinner event for your party, workshops cooking on an open fire or provide catering in your own home. A number of game products are also produced under the Echoput GOES WILD label; game broth and wild boar, deer and hare stews for example (all available at the de Echoput culinary shop).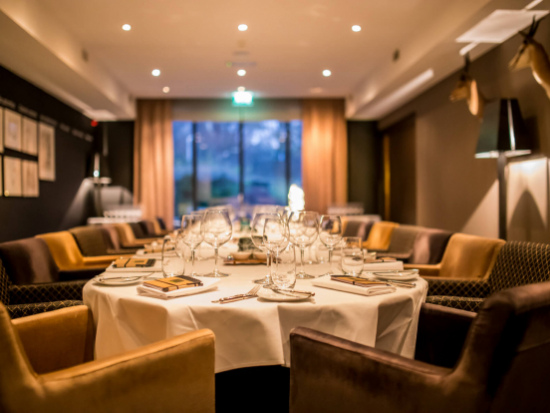 Private dinners
Of course it is also possible to dine privately or in a group. De Echoput has various rooms available for different sizes of companies.
From a long oval table seating 25 people to a dinner with several round tables, feel free to ask about the options for private dinners.
Subscribe to our newsletter
Keep up to speed with our news, offers and seasonal specials