Meetings & Events
Combine your meeting or party with dinner and an overnight stay
Het Loo Royal Estate, Apeldoorn
Meetings & events
A complete and supreme experience of nature makes Hotel restaurant de Echoput an inspiring location for a meeting, event, seminar, training, team building session, reception or party. Our team invites you to combine the utility of your meeting with a mind-broadening activity in nature, a tasteful and expansive dinner and a relaxing overnight stay.
De Echoput has 5 meeting rooms catering from 8 to 120 people. Sited on the main road, the location is easily accessible both by car and public transportation. Plenty parking space is available on the premises. There are also some electric charging stations (for Tesla and type 2 electric vehicles).
Naturally there are also various teambuilding opportunities available, including a cooking workshop or demonstration focusing on game or wine-food combinations, tasting sessions, wildlife hikes or a lecture on taste and classifying flavour by Dr. Peter Klosse.
Options for meeting packages
42 Spacious rooms and suites

top class restaurant

outdoor terrace with water garden

vintage hotel bar and brasserie

cooking and wine school

shop featuring own wines among other things

breakfast buffet

a la carte breakfast dishes

meeting and party rooms

meeting suite

walking dinners possible
Toon meer
indoor natural stone pool

fitness facilities

small sauna (swimming costumes)

massages on request

starting point for hiking/cycling routes

bike rental including e-bikes

passenger lifts

luggage storage

express check-out

wake-up service

valet parking service
concierge service

24 hour room service

centrally located (A1/A50)

± 80 km from Amsterdam

± 15 km from private airport Teuge

± 95 km from Schiphol airport

± 150 km from Düsseldorf airport

bus stop outside hotel

plenty parking space

Tesla and type 2 loading docks

free use of Wi-Fi
Meeting rooms
De Echoput has several areas that can be used as luxury meeting rooms, creative workshop rooms, private dining or reception rooms or large party rooms. The Villa and the Cooking and Wine School are located right next to the hotel and restaurant.
All rooms are available for private or exclusive use. Upon request the team is happy to provide you with audio visual aids, team building or other programme items, musical performances, etc.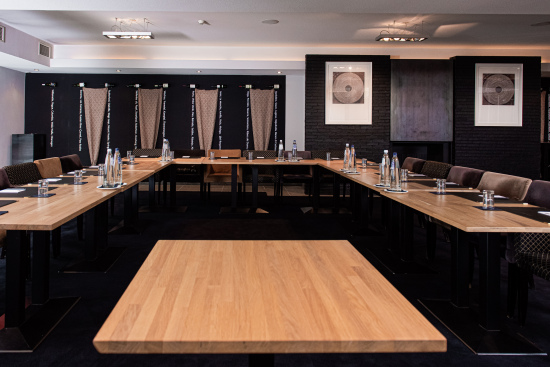 The Vinotorium
Large versatile space with comfortable chairs

sliding doors to external terrace

distinctive view of the wine cellar and cellar treasures

up to 250 persons, area 142 m2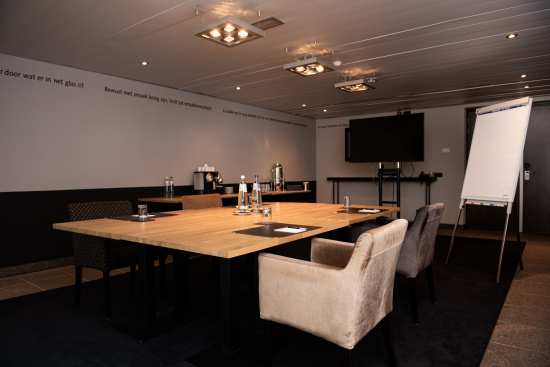 The Flavour Room
Delightful meeting room with comfortable chairs

Sliding doors to external terrace

20 to 24 persons, different setups are possible

surface area 45 m2
The Wine Tasting Room
atmospheric meeting or dinner room

old Echoput historic elements

perfect for tasting sessions or as a break-out room

up to 32 people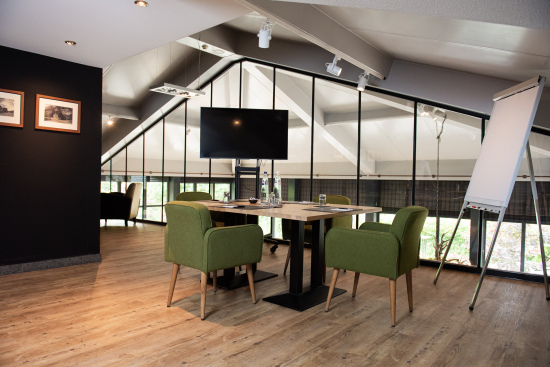 The Library
private space for meeting, lunch or dinner

beautiful view and plentiful daylight through high windows

various setups are possible

up to 10 people
The Villa
luxury separate building next to the hotel offering maximum privacy

plentiful daylight, outside terrace and large garden

multifunctional room for meetings, walking dinners or parties

up to 60 persons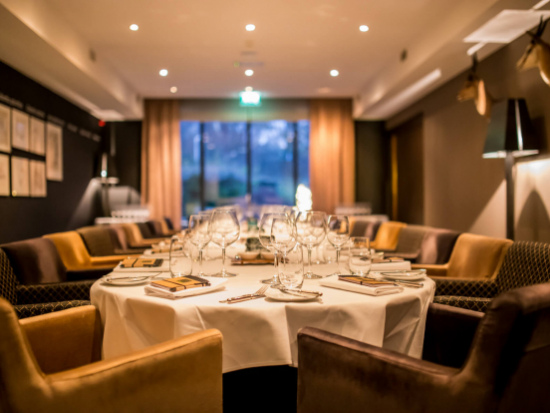 The Salon
seperate dining room next to restaurant

sliding doors to an outside terrace and water garden

dining room seating up to 32 people

area 50m2
The Meeting Suite
unieke Vergaderruimte met panoramisch uitzicht

luxe ingericht met comfortabele fauteuils en vergadertafel

in Toren (lift plus privétrap)

tot 6 personen
Anniversary Dinners
Over the past 60 years de Echoput has had the pleasure of organising and celebrating many delightful parties and anniversaries. From engagements to weddings, farewell parties and other celebrations; de Echoput was honoured to create some wonderful memories.
To this day, the team always looks forward to remind memories of past celebrations and are even more excited to celebrate your coming anniversaries and create wonderful memories once again.
Subscribe to our newsletter
Keep up to speed with our news, offers and seasonal specials